What does it mean to be independent?
How does it work?
How do I know my assets are safe?
These are the most common questions asked when discussing the transition from a traditional wire-house to an independent investment adviser (IA).
Before going into an explanation let us first define some terms we will need.
Investment Adviser (or "Advisor") (IA): "a firm that is in the business of giving advice about securities to clients. For instance, individuals or firms that receive compensation for giving advice on investing in stocks, bonds, mutual funds, or exchange traded funds are investment advisers. Some investment advisers manage portfolios of securities."  An IA is the firm that advises what investments to hold. http://www.sec.gov/investor/pubs/invadvisers.htm
Custodian: "A financial institution that holds customers' securities for safekeeping so as to minimize the risk of their theft or loss. A custodian holds securities and other assets in electronic or physical form. Since they are responsible for the safety of assets and securities that may be worth hundreds of millions or even billions of dollars, custodians generally tend to be large and reputable firms."  http://www.investopedia.com/terms/c/custodian.asp  The custodian is the firm where the client's assets are held – like a vault, you want a strong one.
Broker/Dealer: a "firm in the business of buying and selling securities, operating as both a broker and a dealer, depending on the transaction. The term broker-dealer is used in U.S. securities regulation parlance to describe stock brokerages, because most of them act as both agents and principals."  http://www.investopedia.com/terms/b/broker-dealer.asp  The broker/dealer is the firm that determines how  the securities selected by the IA are bought and sold and at what price – it does the trading of the securities.
Having defined the necessary terms- let's look at the Big Bank Model for providing financial services.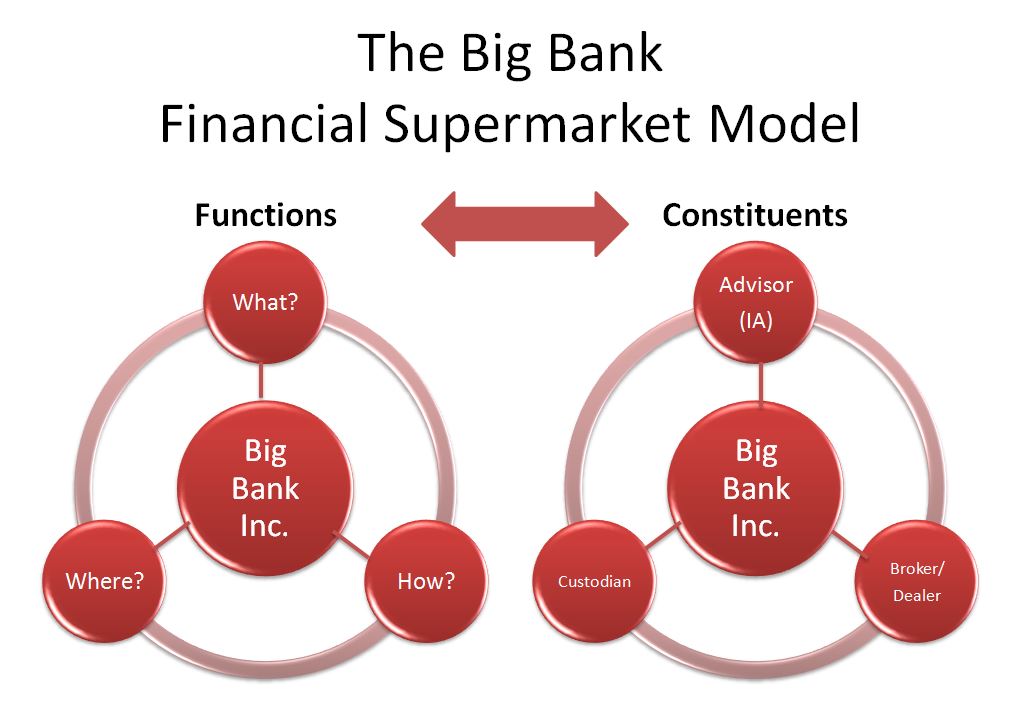 In the Big-Bank all-in-one Model, the "What?" "Where?" and "How?" are all answered by subsidiaries of the mother bank.  Known in the industry as the "financial supermarket"- this model is designed to foster cross-selling of various financial products: credit cards, mortgages, lines-of-credit (i.e. traditional banking functions) with investment advice, brokerage and insurance to generate more fees per client. http://www.investopedia.com/terms/f/financialsupermarket.asp
The other advantage to the Big Bank at the center is that clients become so intertwined with the various facets of the bank that they are less likely to leave and take their business elsewhere- even as fees are raised or service suffers.
The Big-Bank financial supermarket only became possible in 1999 with the repeal of the depression era protections of the Glass-Steagall Act which had formerly separated investment and commercial banking functions.  http://en.wikipedia.org/wiki/Glass%E2%80%93Steagall:_Aftermath_of_repeal
The principal problem with the Big-Bank Model in our view is that it is rife with conflicts of interest.  The various entities may pay fees to each other (for example the parent bank may pay its custodian and broker/dealer for the privilege of "sweeping" cash balances) which are not transparent and may not be in the client's best interest.
Let's now compare the Big-Bank financial supermarket model vs. the Independent Investment Advisor (IA) Model we embrace at Weatherhelm Capital Management, LLC.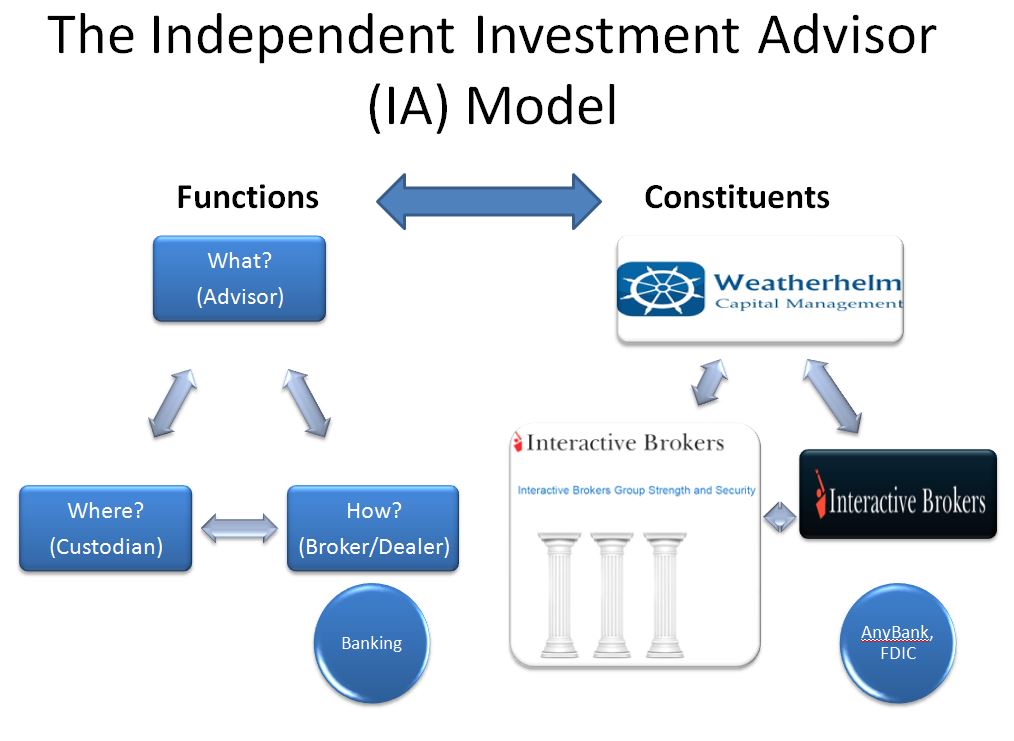 In the Independent IA Model the question of "What?" (assets to hold) is still answered by the IA – but Banking. and the other questions of "Where?" and "How?" are unbundled from that advisory role.
As to "Where?" (are my assets held)  Weatherhelm Capital Management, LLC is an IA that does not have custody of client funds or securities- we are not the custodian.  Weatherhelm uses Interactive Brokers as its custodian. This goes to the question of safety we broached at the beginning-   it is important to have a big, stable financial institution as your custodian.  For more information on Interactive Broker's strength and security please click HERE.
As to the question of  "How?" (are assets bought and sold).   Weatherhelm Capital Management, LLC earns fees for advisory services; we are not a broker/dealer and do not charge commissions.  Our clients' transactions are processed by Interactive Brokers and the commissions (ticket charges) are passed through to our customers.  Weatherhelm chose to align with Interactive Brokers because these commissions and financing costs are are by-far the lowest in the industry. (COMPARE COSTS HERE)  At the same time, Interactive Brokers  provides us with what in our opinion is the best technology available for trading and risk management. (TECHNOLOGY INFO HERE)
Finally, as far as banking services go- we do not cross-sell banking services under the guise of providing financial advice.  Weatherhelm is not a bank.  Interactive Brokers is not a bank.  Our clients are free to continue whatever banking relationships they currently have or establish new ones as they see fit.  Many of our clients prefer to use local community banks or credit-unions.
The Independent IA model is open architecture and transparent; there is no cross-selling and no hidden fees.  The conflicts of interest inherent in the Big-Bank model are therefore eliminated and in our opinion the client is better served as a result.
Interactive Brokers LLC is a registered Broker-Dealer, Futures Commission Merchant and Forex Dealer Member, regulated by the U.S. Securities and Exchange Commission (SEC), the Commodity Futures Trading Commission (CFTC) and the National Futures Association (NFA), and is a member of the Financial Industry Regulatory Authority (FINRA) and several other self-regulatory organizations. Interactive Brokers does not endorse or recommend any introducing brokers or third-party financial advisors, including Weatherhelm Capital Management. Interactive Brokers provides execution and clearing services to customers of Weatherhelm Capital Management. None of the information contained herein constitutes a recommendation, offer, or solicitation of an offer by Interactive Brokers to buy, sell or hold any security, financial product or instrument or to engage in any specific investment strategy. Interactive Brokers makes no representation, and assumes no liability to the accuracy or completeness of the information provided on this website.